Alan D. Ayer '66 died on March 13, 2015, in Addison, Vermont. 
(The following was submitted by Alan's daughter, Allison '94.)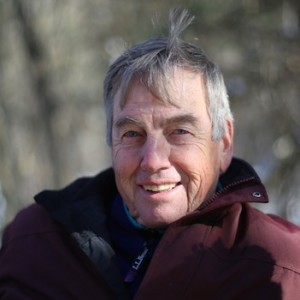 Our lives were forever changed when Alan Ayer of Addison, Vermont, beloved husband, father, grandfather, and friend, died unexpectedly and peacefully in his home on March 13.
Alan grew up in South Portland, Maine, where his sister Chrysta, still resides. He graduated from Bowdoin College where he made many of his closest lifelong friends. At UVM Medical School he met and married his wife Claire. They had two daughters, Gretchen and Allison, before he completed his residency and served four years in the Air Force.
They returned to Vermont to settle in Weybridge for thirty-five happy years and completed their family with the birth of their son Nathan. Alan and his good friend Chip Malcolm established Addison Associates in OBGYN and delivered thousands of babies over multiple generations. In his practice, as with his family and friends, he was generous with his attention and available night and day. He loved his work and his patients and was still practicing at age seventy-one. He was especially proud of the political career and successes of his wife Claire, and supported her without reserve.
Blessed with bountiful energy and an interest in all things, he was a man who built and fixed his own home, gardened, sailed, and golfed with equal enthusiasm. Alan was a proud Eagle Scout who worked with local troops and also served on community and school commissions and boards. Some of his favorite time in recent years was spent caring for and teaching his five-year-old grandson Max. Alan looked forward to the summer wedding of daughter Allison to Michael Scheiman, and to the birth of his second grandchild to son Nathan and his wife Marie. He laughed a lot, had an infectious smile, a great enthusiasm for life, and was always grateful for his family and friends.
Alan was a warm and caring man, salt of the earth, and gifted physician with a deep sense of humility. The pleasures of family, friends and work made him happy his entire life.