Christopher N. Chandler '59 died on March 25, 2019, in Chicago, Illinois. 
(The following was submitted by the family, April 2019:)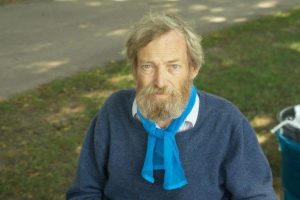 Christopher Norris Chandler died on the morning of Tuesday, March 26, in his home in the Bucktown neighborhood of Chicago due to complications from prostate cancer. He was eighty years old. Chandler was born in Cambridge, Mass., to Ruth Doggett Chandler and the Rev. Dr. Edgar H.S. Chandler on July 12, 1938. He grew up in Boston, in New Jersey, and in Geneva, Switzerland, where he attended the International School of Geneva during his father's ministry as Director of the Refugee Resettlement Service of the World Council of Churches. He earned a BA in 1959 from Bowdoin College, Maine.
Chandler served in the United States Army from 1960 to 1963, as a photo interpreter for the intelligence service, primarily in West Germany, where he earned a US Army Commendation Medal, presented in 1964.
He began his journalism career at the venerable City News Bureau in 1963. He moved to the Chicago Sun-Times in 1965, where he covered education, civil rights, and politics. While at the Sun-Times, Chandler was recognized with the Chicago Urban League's Civil Rights Award and Washington University in St. Louis's Humanism Award for his reporting on education and civil rights. Historian Theodore White, in his account of that election, The Making of a President, 1968, said Chandler's reporting "provided the best background of events at Chicago that I have read."
Chandler left the Sun-Times in 1969, and was instrumental in founding, writing, and editing a string of local newspapers, beginning with the Chicago Journalism Review—where Chandler's work in the first issues were instrumental in exposing the police cover-up of the murder of local Black Panther leader Fred Hampton. He later co-founded the Chicago Free Press and the Daily Planet.
From 1976 to 1980, Chandler worked as a writer and producer for Bill Kurtis' Focus Unit at WBBM-TV Channel 2, where he won an Emmy for Outstanding Achievement for Individual Excellence for "1968: 10 Years Later" about that year's Democratic National Convention and its associated demonstrations and police riots.
In 1982, Chandler joined the campaign to elect Harold Washington mayor of Chicago, including contributing to Washington's announcement speech. He worked throughout the campaign and then for the Mayor's office as a Deputy Press Secretary, working with Grayson Mitchell through the political battles known as Council Wars. He later was appointed as head of Public Relations for the Chicago Public Library. Chandler wrote about his experiences with the campaign, and the legacy of Washington's run as mayor, in his second book, Harold Washington and the Civil Rights Legacy, (Woodbury Press, 2014).
He was a science and technology writer at the Northwestern University McCormick School of Engineering news office from 1988 to 1996. He then served as press secretary for US Congressman Bobby Rush of Chicago, from 1996 to 1997, and as the director of media relations for the Government Accountability Project in Washington, DC, from 1997-2001.
In January 2008, Chandler co-founded the United Taxi Drivers Community Council (UTCC) organizing for the group, strategizing and writing their newsletter. The group fought for concessions from the city over regulation of new ride-sharing services. He was a tireless critic of Mayor Emanuel and the City's uneven regulatory approach towards ride-sharing services like Uber.
Chandler was the author or co-author of two books. His first, co-authored with flight attendant Paula Kane, was Sex Objects in the Sky, (Follet Publishing Co., 1974) an expose on the sexual harassment of flight attendants that was far ahead of its time, and also included original reporting that exposed the hazards of radiation faced by airline crews.
The second, Harold Washington and the Civil Rights Legacy (Woodbury Press, 2014 and 2017), is a personal account of the long-shot mayoral campaign and the early years of the administration of Harold Washington, Chicago's first African-American mayor. As Prof. Dick Simpson of the U. of Ill., Chicago, said, the book is "A gripping account by Chris Chandler of Washington's historic campaign, his tumultuous time as mayor, and the transformation which followed…. He provides us with a front-row seat from which to see from the inside this pivotal time in our history."
Chandler is survived by his children and their spouses, Christopher Michael Chandler and Clara Sturak, of Santa Monica CA; Bob Chandler and Kathy Lange Chandler, of Chicago; Travis Chandler and Elizabeth Rowan Chandler, of Chicago; Lara Blumstein and Joe Compean, of Chicago; Andrew Diamond and Lauren Bishop, of Chicago; and Jonathan Chandler and Rosalyn Westerfield, of Chicago. He is also survived by his grandchildren: Dashiell Chandler of Santa Monica, CA; and Anna Kate Chandler, Simone Compean and Amira Compean of Chicago.
He is survived by his siblings Hugh Chandler of Urbana, IL; Marjorie Chandler of Oxford, UK; and David Chandler of Ashfield, Mass., and by his three ex-wives, Marthe Atwater Chandler, Denise DeClue, and, Janet Bremer Chandler.