David Thurlow '71 died on August 4, 2018, in Leicester, Massachusetts.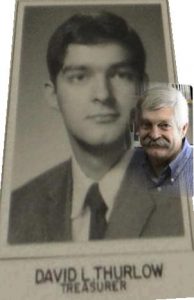 David L. Thurlow, 69, passed away suddenly on Saturday, August 4, 2018. He leaves his loving wife of twenty-two years, Andrea (Lemerise) Thurlow and their yellow lab, Mason.
Dave was born in Augusta, Maine, the youngest of three children born to Clinton F. and Marion W. Thurlow. He was pre-deceased by his parents, his brother Robert, and sister Barbara Burns. He is survived by his beloved nephews Robert and Howard Thurlow, Jeffery and Jason Burns, niece Julie Burns, two more generations of close nieces and nephews, and many loving cousins.
In addition to his biological family, Dave is survived by his wonderful in-laws, the Lemerise family, and his second family, the Turnbulls, who were very dear to him. Dave also leaves many special circles of friends from his Bowdoin and UMass days and Clark colleagues, all too numerous to name. He truly loved all those around him.
Dave completed his BA at Bowdoin College and his MS at UMaine-Orono. He then earned a PhD in Biochemistry from UMass-Amherst. After appointments at the Institute of Cellular and Molecular Biology, Strasbourg, France and then at UMass, he accepted a permanent position at Clark University, where he rose to the rank of Professor of Chemistry and Biochemistry before retiring in 2017.
During his thirty-two years at Clark, Dave demonstrated his skills as a teacher, researcher, and mentor, earning the University's Outstanding Teacher award twice and its Outstanding Advisor award four times, the only professor ever to do so. Dave found a love in mentoring students who wanted to pursue careers in the health professions and was the director of Clark's pre-health advising program (medical, dental, veterinary, etc.) for fifteen years.
He was as respected by his colleagues as he was by his students and served on the Executive Committee for the Northeast Association of Advisors for the Health Professions for twelve years. Toward the end of his career at Clark, he was one of the major movers in the development of the University's new concentration in Public Health.
All who knew Dave understood how much he loved teaching and guiding his students, and daily visits to Annie's Clark Brunch. He treasured his time at Clark and it truly brought him fulfillment.
As much as he loved his job, he cherished his annual summer getaways to Summerhaven in Maine, where many fond memories were made with family and friends. Summerhaven will always be close to his heart.
He will be missed the most by his wife — the love of his life with whom he shared many meaningful moments and travel adventures. He especially loved walks at the park with her and their loyal four-legged companion.