Gerlinde W. Rickel, academic coordinator in the religion and philosophy departments for twenty-five years and an honorary member of the Bowdoin Alumni Association, died on September 8, 2018, in Melbourne, Florida.
(The following appeared online at davisseawinds.com in September 2018):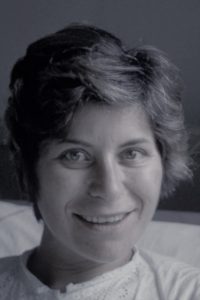 Gerlinde Wilhelmine Rickel, 79, passed away peacefully September 8, 2018, in Melbourne, Florida, after a long battle with Alzheimer's. Born in Stuttgart, Germany, to Karl and Maria Brendle she attended Realschule in Stuttgart where she studied typing, shorthand, and played the harmonica. In 1960, Gerlinde came to America to study English at Southern Methodist University in Texas and worked for Time/Life Magazine. In 1964, she transferred to Los Angeles to be closer to her sister, Hannelore, and later worked at Stanford University as a statistical typist. In 1966, she met the love of her life, Donald.
Gerlinde loved being a mother and wife, loved to garden, bake and cook her native German meals, knit, and entertain. She enjoyed traveling, especially back to Germany with her family. She was passionate about helping others, and had a very generous heart and showed compassion in so many ways. She always made sure no one was ever alone. Her home was open to anyone that needed one. As a Bowdoin professor once said ,"Her apple pies are legendary, her knitting exquisite, and her heart huge." Gerlinde was a proud and devoted Navy wife and was nominated in 1975 as Navy Wife of the Year for Brunswick Naval Air Station. She was an academic department coordinator at Bowdoin College for twenty-five dedicated years in the philosophy and religion departments. Gerlinde was active in the German/American Club and coordinator for the CJD German Exchange Program providing over 380 high school students in both Germany and America the unique opportunity to study abroad for a year. In recognition of her commitment to this program, in 2002 Gerlinde was awarded Germany's highest civilian award, the Medal of the Order of Merit (Verdienstmedaille) conferred by German President Johannes Rau.
Gerlinde is preceded in death by her parents, Karl and Maria, brother Hans-Jorg, and sister Hannelore. She is survived by her husband, Donald, three daughters, and their husbands, Kim, (James), Kirstin, (Charly), Heidi (Oliver) seven grandchildren, Scott, Colin, Caroline, Sean, Christopher, Ryan, and Andrew, and a niece and nephew in Germany. Gerlinde will be forever remembered by all the lives she touched and her ability to give her love freely is the legacy she leaves behind.