John G. Day '53 died on December 14, 2015, in Ossippee, New Hampshire.
(The following appeared online at lordfuneralhome.com Dec. 14, 2015):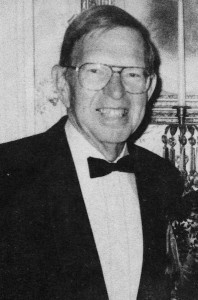 John G. Day, son of Roland and Selma Day, died at his home, Glidden Farm, in Ossipee, N.H on December 14, 2015.
He was born December 27, 1931, in Medford, Massachusetts and grew up in Delmar, New York, a suburb of Albany. He attended Bowdoin College in Brunswick, Maine from which he graduated Cum Laude and was elected to Phi Beta Kappa.
In 1953, he married Susan A. Day, a graduate of the University of Vermont in 1953.  The following two years, they lived in Medford, Massachusetts where she worked while he attended the Fletcher School of Law and Diplomacy at Tufts University from which he received an M.A. in 1955.  He then joined the Department of State in Washington, D.C. as a career Foreign Service Officer.
Over the next 27 years, he, Susan and their three children were assigned to many diplomatic and consular posts, including; Naples Italy, The Hague, The Netherlands, Athens, Greece and Ottawa, Canada. He also served in various positions in the State Department and he traveled officially to parts of Africa, Eastern Europe, and the Far East, including Viet-Nam during the Viet-Nam war.
Much of his career was devoted to Greece where he served in the 1960's before and after the military coup in 1965. He also served in the early 1970's as Director of Greek Affairs at the State Department.  In those years, he was widely regarded as one of the best informed U.S. officials on the Greek political scene.
Upon his retirement, he continued his interest in foreign affairs and followed current events closely by reading numerous publications. He and Susan moved to Ossipee, N.H., where they spent much time restoring and renovating Glidden Farm, a property which was constructed by his ancestors and has been in his family since 1840.
He embarked on a plan to landscape the Glidden farm by planting rhododendrons, perennials, fruit trees and other flowers and shrubs. Glidden farm became noted for its display of daffodils along the road.  In the fall, he enjoyed selling mums on the honor system from the front lawn. Every summer, he donated flowers to be used in arrangements for the open houses during the Hospice Garden Tour.  He was also an active member of the Bear Camp Valley Garden Club and  contributed much time and energy to it.
Additionally, he was the patriarch for the Glidden family and each summer welcomed extended family to a picnic reunion at the Glidden farm and every New Year's to a black tie dinner.
He is survived by his wife, Susan, of 62 years, their three children; Sydney of Bath, Maine, Mark of Silver Spring, Maryland, and Christina and her husband, Geno Ring, of Brunswick, Maine. A son, Nathaniel Glidden predeceased him as well as his daughter-in-law, Maryjane Day. He is also survived by six grandchildren; Kristin Ring, Elizabeth Ring, Lauryn Day, Julia Day, Alexandra Ring and Michael Ring. A brother, Roger, and a sister, Marilyn Many, predeceased him.
A private burial service will be held for the family and a memorial reception for all will be held in the spring or summer.
He will be sorely missed by his family and many friends.