John A. Ritsher '52 died on December 10, 2018, in Norwell, Massachusetts.
(The following was submitted by the family in December 2018):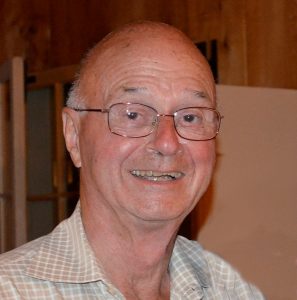 John Alan Ritsher of Norwell died peacefully in his sleep on December 10, 2018, at age 88, with his family at his side.
Born in Beirut, Lebanon, on Sept 26, 1930, he moved to the States in 1941 in a circuitous adventure through Palestine, Egypt, Australia, and Honolulu (in time for Pearl Harbor), sparking life-long interest in the Middle East.
A scholar and poet, John delivered the commencement address at Bowdoin College after leading the desegregation of his fraternity in 1951. During the Korean War, his flat feet and good fortune dictated he serve as a medic in Paris. Upon discharge, he earned a law degree at the University of Chicago. As a senior partner at Ropes & Gray, he represented nuclear power plants across New England.
In 1964, he married Cynthia Wilder and had two sons, David and Ken. John moved his family to Lincoln to a home he designed with noted architect Henry Hoover. On the Lincoln Board of Selectman in the 1980s, he was a quiet force of reason and compromise, skillfully finding middle ground during contentious town debates.
John's lifetime labor of love was a house on Lake Winnipesaukee that he designed and built (twice!) while in college. The home on Ritsher Road was a gathering place for generations of family and friends. John savored time at "the lake" both for quiet mornings of mist and loon song and its unlimited excuses to pound nails and rip pine boards on his trusty table saw.
In 1989, John married Diane Littlefield and they settled in Norwell. He and Diane loved to travel together and to spend time with family, friends, and their grandchildren. An avid tennis player, he played frequently into his last decade. In retirement, he enjoyed making copious amounts of sawdust and wood shavings on his lathe, an endeavor that also resulted in the creation of beautiful hand turned bowls. John also served on the board of South Shore Habitat for Humanity and volunteered to read the newspaper for the blind.
John is survived by wife Diane, sons David and Ken, stepchildren Damon Berry and Meg Berry, their spouses, and six grandchildren: Sam, Lilah, Foster, Theo, Porter, and Berkely. He was predeceased by sisters Ann Carter, Marjo Bunting, and Helen Augusta.