A. Morten Lund '50 died onDecember 21, 2018, in Accord, New York.
(The following was submitted by the family, December 21, 2018:)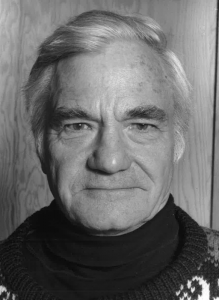 Morten Lund '50, acclaimed ski journalist and skiing historian, participant in and chronicler of Twentieth Century skiing history, and author of seminal books concerning downhill and cross-country skiing died at his home in Accord, New York, on Friday, December 21, at age ninety-two. He had a distinguished writing and editing career spanning six decades at Sports Illustrated, Ski, Snow Country, and Skiing Heritage.
The eldest son in a prominent Bowdoin family, he was raised in Augusta, Maine, where his Norwegian immigrant parents, Anton M. and Helga Lund, instilled in him a love for the water and for skiing from an early age. He attended Augusta's Cony High School, where he lettered in three sports, football, basketball, and track, graduating in 1945 as class salutatorian. After serving a year in the Navy at the end of World War II, he graduated cum laude from Bowdoin in 1950 and went on to Harvard Law School before deciding to return to his first loves, skiing and boating, and writing.
Although he later concentrated on skiing, his early books focused on his love of the water, i.e., Inside Passage to Alaska, Cruising the Maine Coast, and Eastward on Five Sounds. At Ski magazine, he wrote on learning to ski on short skis, collaborating with Clif Taylor, and coined the term "GLM" ("graduated length method"). GLM was adopted by leading ski schools and by the Professional Ski Instructors of America (PSIA). Thousands of skiers today who would never have learned to ski otherwise, learned the techniques of the sport through GLM.
He was a founding writer of Snow Country magazine, and cofounded Skiing Heritage, the first national publication focused on skiing history. He was inducted into the US Ski Hall of Fame and into Maine's Ski Hall of Fame and received the International Ski History Association's Lifetime Achievement Award. Over the course of his career, he wrote well over 400 features and sketches and forteen books.
Predeceased by his long-time companion, Elizabeth Aprea, he leaves his brothers Jon Lund '51 and his wife Joan Sturmthal, of Hallowell, Maine, and Erik Lund '57 and his wife Sandra Lynch, of Boston, Massachusetts, and numerous nephews and nieces, including Will Lund '76, Ben Lund '83, Ted Lund '85, and Carol Lund Price '86.