Paul J. Rayment '59 died on February 6, 2015, in Newton, Massachusetts.
(The following was provided by Paul's daughter Mary Ellen '99)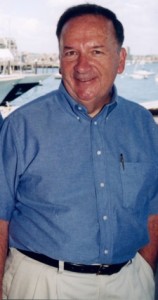 Paul Rayment of N. Andover, formerly of Dennis, passed away from complications of Alzheimer's Disease on Feb. 6 at Newton Wellesley Center for Alz. Care. He was surrounded by his wife and five children.
Paul was born in Taunton, MA, on Oct. 13, 1937, the son of William Rayment and Katharine (Goggin) Rayment. He was a 1955 graduate of Coyle H.S. and a 1959 graduate of Bowdoin College. After serving in the Army, Paul taught at Mater Dei School in Potomac, MD, for six years. He joined IBM in 1968 and retired as a branch manager in sales in 1992.
Paul is survived by his wife of fifty-three years, Dolores (Schaefer) Rayment and their five children: David (Jennifer) of Erie, CO; Phillip of Needham; Christine Dodson (Kyle) of Burlington, VT; Nancy Phillips (Dave) of N. Andover; and Mary Ellen Rayment '99 (Richard Cruz) of Bethesda, MD; as well as thirteen grandchildren. He is also survived by his three siblings: Donald (Dee) Rayment '54; Wilma (John) Brady; and Susan (Tim) McMahon; as well as seventeen nieces and nephews.