Renata C. Ledwick, assistant director of alumni relations, died on March 18, 2017, in Brunswick, Maine.

(The following was published in The Portland Press Herald/Maine Sunday Telegram on March 22, 2017:)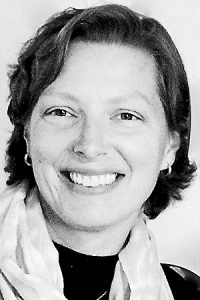 BRUNSWICK – In the 43rd year of a life well-lived, Renata Formo Ledwick, best friend and wife to Chris and mother to Solveig and Brendan, peacefully passed on to her eternal reward, surrounded by her family at home, March 18, 2017.
A tireless reader of bedtime stories, the world's toughest woman, intuitive interior design-er, creator of unique Halloween costumes, talented oil painter, relentless gardener and beautiful singer, she leaves in her wake of grief a lasting and unmatched legacy of beauty, kindness and generosity among her family, friends, co-workers, Bowdoin alums, baristas, and total strangers.
Possessed of an eye for beauty, mischief, and an appetite for adventure, Renata struck off from her native Minnesota shortly after college on a whim and landed in Portland, Maine. Seeking ever to imbue the world with more beauty and kindness than she found, she threw herself into her passions; art, interior design, and spreading kindness. Aside from her children and family, her greatest satisfaction came from making people smile.
A devoted mother and wife, she threw herself into restoring her historic home and making it a livable and warm space for her family and friends. Her eye and counsel were constantly sought by those who knew of her talent for color and interior design, for which she always refused payment but welcomed the challenge.
Renata's infectious laugh and genuine smile were ever present and remain fixed in the hearts and minds of her friends and family.
Faced with diagnoses that would have brought the strongest man to his knees, she did not battle cancer publicly the last four years so much as she endured it heroically, quietly and with a dignity and grace unimaginable. She never sought to be defined by cancer, even when it was terminal. She worked full-time throughout her illness and never lost her spirit of hope.
A life-long advocate for the arts and the liberal arts, Renata made her career at Bowdoin College as the assistant director of alumni relations for the past 14 years, becoming a friend to legions of Bowdoin alums and students.
A tireless ambassador of all things Minnesotan, she wrote checks for groceries, sang out loud and beautifully in church, never once used her car horn in anger or impatience, and knew that ice cream was a four-season food.
A proud graduate of St. Olaf College and St. Louis Park High School, Renata was strong, kind beyond measure, and believed in the innate goodness of everyone she met, unless and even when it had been proved otherwise.
She leaves behind her best friend and husband Chris and their children Solveig and Brendan; her parents Gerald and Christine, of St. Louis Park, Minn.; her sister Heidi Munson, of Edina, Minn.; her sister Jocelyn Butler, of Louisville, Ky.; and her grandmother Virginia Putnam, of Granite Falls, Minn.