Robert E. Bachman '63 died on May 13, 2017, in Dallas, Texas.

(The following was published in the Dallas Morning News on May 17, 2017:)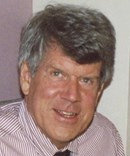 Robert Ellis Robert Ellis Bachman, 75, passed away on May 13 from complications of ALS. Robert is survived by his beloved wife of 50 years, Kay, and his loving daughters, Elizabeth Bachman Caruthers and Kristina Bachman Jung (Michael). He also leaves behind his adored grandchildren, Mary and Robbie Caruthers, and his dear sister, Nancy Engleman (Tom). He was predeceased by his parents, Ruth and Ellis, and his brother, Peter. Robert was born in Quincy, MA and graduated from Bowdoin College in Maine. He served in the Vietnam War as an officer in the U.S. Navy. After obtaining an MBA from Columbia University he embarked on a long and varied career as an entrepreneur, starting at Anheuser Busch, then Lehndorff USA, and founded USGT Investors with his long-time business partner, Deborah Randall. He took great pleasure in mentoring graduate students at the SMU Cox School of Business.