Charles F. Davis '53 died on April 8, 2015, in Ellsworth, Maine.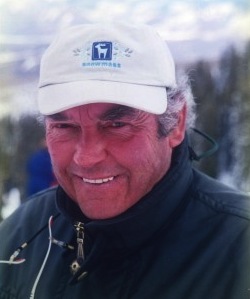 (The following appeared in The Portland Press Herald, April 11, 2015):
GOULDSBORO – Charles F. Davis, 84, of Gouldsboro, passed away peacefully April 8, 2015, at Maine Coast Memorial Hospital, Ellsworth, surrounded by many of his loving family members. He was born Sept 20, 1930, in Boston, Mass., son of Charles P. and Flavia (Folsom) Davis of Wellesley, Mass. His father was a native of Bangor; his mother was from Lyndonville, Vt.
Charles graduated from Noble and Greenough School, Dedham, Mass., in 1949, and received an A.B. from Bowdoin College in 1953. He served in Korea as an Army First Lieutenant, then graduated with an M.B.A. from Harvard Business School in 1957.
Charles began his career in the food business as a Star Market manager, then a regional produce manager in the Boston area for Stop and Shop supermarkets. Next, he became president of Fishery Products, Inc., in Danvers, Mass., the frozen fish subsidiary of Fishery Products Ltd., of St. Johns, Newfoundland. He later served as president of Jasper Wyman & Son in Milbridge, Maine's largest grower and processor of wild blueberries.
Upon retiring from the business world, Charles entered the public service sector, first as a small business counselor at Eastern Maine Development Corp. in Bangor, then was state director of the Small Business Development Centers in Portland. He also was an adjunct professor at University of Southern Maine and the University of Maine at Augusta, teaching business strategy.
Charles was a lifelong skier, across New England, the Western states, the Canadian Rockies and the Alps. He and his wife, Yvonne, owned a chalet at Sugarloaf for many years where they welcomed family and friends.
Charles was predeceased by his sister, Jane Darling Lewis and his parents. He is survived by his wife, Yvonne; and by his daughters Linda Davis of Basalt, Colo., and Kathryn Cadigan, of Barrington, R.I., and his son Chip (Charles Folsom Davis Jr.) of Deerfield, Mass., as well as two stepdaughters, Deborah Guilmette of Skowhegan and Michelle English, of Manchester; six grandsons and a granddaughter.