Herbert F. Griffith '44 died on March 26, 2015, in Humble, Texas.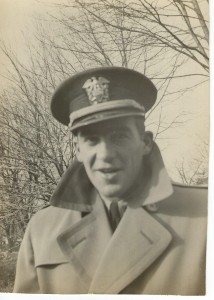 (The family submitted the following obituary):
Herbert F. Griffith '44 died March 26, 2015 at home in Humble, Texas. He was born on April 20, 1923 in Boston, Mass., and prepared for college at Belmont High School. A member of Psi Upsilon fraternity, he left Bowdoin in 1942 to join the United States Navy, where he achieved the rank of ensign as a naval aviator. He was awarded the American Theatre Victory Medal. After earning a bachelor's degree in history and French, he matriculated at Columbia Law School in New York. Working as a salesman for Proctor and Gamble, he initially was employed in Manhattan, and then transferred to Trenton, NJ; eventually joining O.E. McIntyre as vice president of sales and relocating to King City, Ontario. A period of self-employment ensued at the Cape Cod Cheese Shoppe, after which followed a position with Peterbilt Truck Company in Houston, Texas, until his retirement. His passion in life was excellence in his pursuits, especially golf. He is survived by his wife of 66 years, Susan (Tuttle) Griffith; daughter Charlotte Turner (David); and sons G. Scott, (Deborah), Steven M. (Debranne), W. Benjamin, (Elizabeth); six grandchildren; and three great-grandchildren. He was predeceased in 2005 by his sister, Lucia Luetters; in 1983 by his granddaughter Lindy Jayne; and in 2004 by his son-in-law Alex Mellenger.