Rudolph J. Hikel '51 died on March 21, 2015, in Orono, Maine.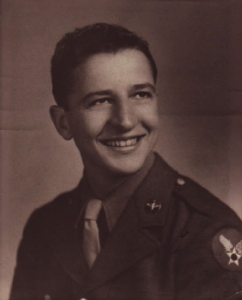 (Rudolph's daughter, Katharine, submitted the following):
Rudolph Jerome Hikel died peacefully in his residence at Dirigo Pines in Orono, after a brave struggle with pulmonary fibrosis, on March 21, 2015.
Rudy was born on June 2, 1926, in Waterville, Maine, to Tutla Corey Hikel and John Hikel. Rudy and his family were raised in the lively 'Head of Falls' mill-workers' neighborhood near the Kennebec River.
Rudy enlisted in the Air Force in 1944 while still in high school, and was training as a flight engineer when the war ended. He was assigned to postwar reconstruction in France and Germany, where he acquired a lifelong appreciation for French cuisine and German engineering.
After his discharge in 1946, he completed high school at Coburn Classical Institute in Waterville, matriculating at Bowdoin in 1947, paying his way with help from the GI Bill. He majored in economics and history, and played quarterback for the football team. He participated in Bowdoin's affiliate summer program at Clark University, and graduated from Bowdoin in 1950. Rudy enjoyed a lifelong career in shoe manufacturing – at Norrwock, Dexter Shoe, and Spot Bilt. He was instrumental in setting up the Dexter Shoe Factory Outlets throughout Maine.
Rudy and his friends were regulars at the Island Park Band Stand on Lake Cobbosseecontee. His story was that one evening a gorgeous young woman tapped his arm, and said, "Aren't you going to ask me to dance?" He and Barbara Ekemsky were married on September 21, 1951, and enjoyed lifelong friendships with Rudy's beloved Bowdoin friends and classmates.
Rudy and Barbara raised six children in Skowhegan, teaching them all to read, write, fish, ski, and throw a spiral pass. They moved to Orono, where he took a retirement job at the University of Maine's Fogler Library, worked as a literacy volunteer in the community, and rode his bike around the campus paths daily, while his health allowed.
Rudy was predeceased by his wife Barbara in 2005. He is survived by his children and their families: Katharine Hikel, Joy Hikel, Barbara McCree , Elizabeth Jewell, Jake Hikel, Dan Hikel; grandson Jesse McCree '06; and by many cousins, nieces, nephews, grand-children, and great-grandchildren, all wearing Polar Bear swag in his honor.